Ahhhh, no Firefly to write today. I know, I have Trash, The Message, and Heart of Gold (the REAL last episode of Firefly) to finish. To say nothing of Serenity. Next week maybe. I don't even have those episodes on my iPod and I don't have them near as committed to memory.

ANYway, tomorrow is the BIG DAY. Since I was a small child I have been working as Digital Effects Supervisor on the fan-film Star Trek: Of Gods and Men. (Which I talked about HERE.) Well, ok, since summer of 2006. It SEEMS like since I was a small child. Our director insists it isn't a fan film, and who am I to argue? He's Tuvok. And he was in Die Hard 4.

We premier tomorrow with Act 1 of 3. Go look! We've got the big names, Walter Koenig (when's HE going to be on Heroes?), Nichelle Nichols, Alan (CAMERON!) Ruck, and a host of others.


An unflattering shot of both me AND Walter Koenig!
Suffice it to say, for the effects work we've been doing we're a little on the underfunded side. Which is to say, working for THE LOVE of it. (So very very true!) So our team is a bit rag-tag when it comes to tool sets. I like to think of us as a "multi-disciplined organization". We're working in Lightwave, 3ds Max, Particle Illusion, After Effects, and of course Blender. And we've managed to get it all to work together. AND have jobs, loved ones, and lives. It's been a hoot working with these folks. (Still is. We're not quite done yet.)
I've gotten to visit a movie set with "real" Trek actors, argue faith vs. works with Janice Rand, make faithful recreations of famous Trek ships as well as come up with my own new designs, create full FX sequences from start to finish, and work on scenes that had many hands all working together. I'll have stories and pictures up over the next couple of months. But I'd like to take a moment to gush about my fellow OGAM FX wizards.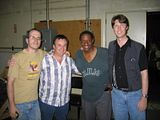 Peter Christian, Chris Dawson, Tim Russ, ME!
Peter Christian: Husband, father, really big nerd. Our Associate Producer, Art Director, Producer Handler (I SO kid!), man of many hats. A man who makes Star Trek costumes so good he has had to turn business away. The assembler of this lunatic crew. And he occasionally does FX. (I'll rant about some of his Act III stuff when we get there.)
Chris Dawson: Our Yoda. Heck, MY Yoda. He's our full-time professional on the team. His credits include Titanic, Apollo 13, The Guardian, Pirates of the Caribbean: At World's End, and Armageddon. Never let him forget that last one. Actually has worked with CAMERAS and MODELS. To say that he keeps us honest is an understatement. I know my own work on this film has been a hundred times better because I had Chris looking over my shoulder.
Roland Baron: Model maker and texturing lunatic. One of the great blessings of this project coming to a close is that I'm getting to see some of his other work show up on the message boards again. Responsible for my very favorite-est shot of our hero ship in the whole production.
Wil Jaspers: Creator of our hero ship. Also our great BLOWER UP OF STUFF. He was given the task of learning how to run rings around Particle Illusion for all of the rather ambitious destruction that we had planned. It seems he doubles his ability every day. I'd be interested to see what would have happened if we had been on this film for another year. (Most likely divorce and group suicide pacts, but that's another story.)
Henry Gibbens: Sadly left us before his time. (He's fine, he just had to get back to real life.) The guy who knew how to do all of the stuff that WASN'T in outer space. AND the stuff that was IN outer space. Lightwave fellow. Soundtrack collector (his library way outstrips mine). For the first big chunk of our production, the guy who figured out how to make all of my animation actually transfer to somewhere it could get rendered. We miss you, Henry.
Scott Nakada: Maker of props, drawer of storyboards, lover of Okudagrams. The only person on our team who actually knew what an Omega Particle is.

Scott making things look cool.
Matt Boardman: The new kid. In more ways than one. The only person on our team who wasn't alive for Star Trek: The Motion Picture. He IS The Next Generation. I think we blew up every ship he ever animated. Nothing personal.
So assuming we don't have our servers crash tomorrow, go check us out. And if we do, be patient, they'll be back up soon!